Environmental Activities for the Well-being of both Mankind and the Earth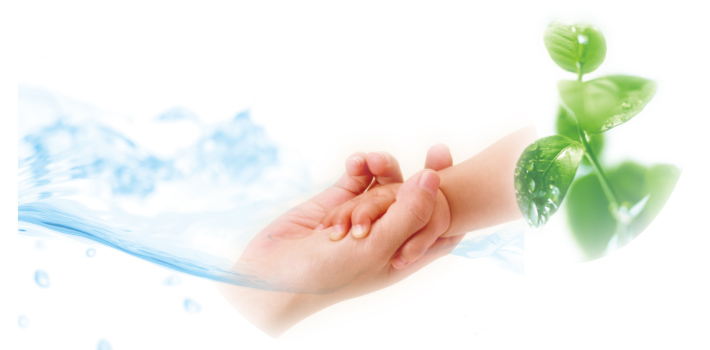 Shimadzu cherishes the ecology and environmental cares the most with our company management principle of "Realizing Our Wishes for the Well-being of both Mankind and the Earth". To achieve it concretely, Shimadzu engaged in various environmental activities and efforts, such as supplying various analytical products to inspect the quality of air or water with its high accuracy, reducing CO2 emission from our manufacturing factories, selecting the materials with less environmental impact from the phase of the product designing, and developing the new products with less energy consumption designing for their entire product lifecycle.
Here, let us introduce just a few of those efforts of Shimadzu.
"Save the Energy" Project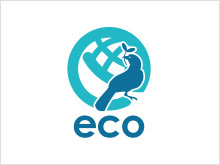 This project promotes successively developing new key products that have the potential of significant energy savings and are consistent with a low-carbon society that would achieve energy savings of at least 25 %*1 through lower power consumption by the customer and lower operating costs. Consequently, the project resulted in reducing the power consumption of many products, and products with power savings of at least 25 % were identified as energy saving products and certified under Shimadzu's ECO-label system.

Design the Products for eco
From the initial development phases for our new products, Shimadzu designs the systems for ecology-friendly and actively cares the European Environmental standards RoHS Directive which defines the restriction the use of environmentally-hazardous substances as well.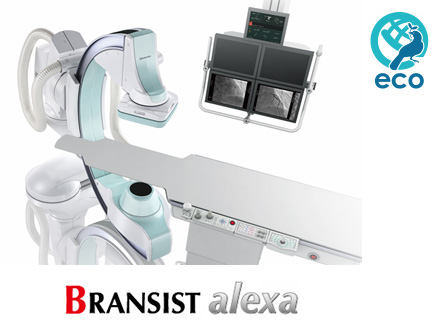 32% less Power Consumption than our previous model
RoHS compliant ( European Environmental directive )
Less Temperature Condition requirements *2
*2 The previous system required more strict control to keep 20-27deg. for the system room, but new system can accept wider range conditions(10-35deg.), which contributes the hospitals to reduce the extra air-conditioning power consumptions and costs continuously for its long whole system life of many years.
Green Procurement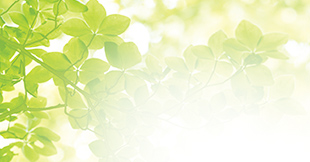 Shimadzu is committed to reducing the environmental impact of our manufacturing and other business activities by prioritizing procuring materials, parts, office supplies, equipment, and so on, that have a low environmental impact and by promoting the Green Procurement program, which aims to reduce or eliminate the use of hazardous chemical substances.
ISO14001 Accreditation
In June 1997 the ISO14001*3 accreditation was attained in the Kyoto district where the head office of Shimadzu Corporation and the main factory is located.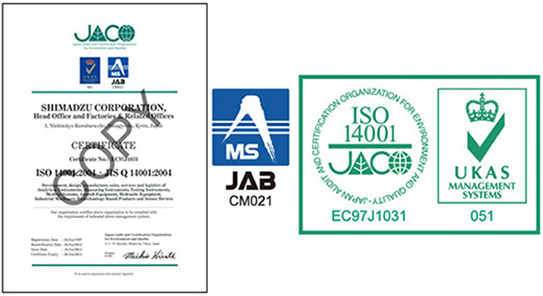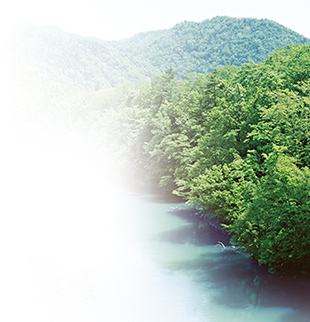 *3 The ISO14000 series refers to the set of international standards, created as a measure to tackle worsening global environmental problems, that allows each corporation/organization to engage in economic activity that places environmental conservation at the forefront of their operations.
Information for Mercury-containing Products
This page has information intended for users in the US and Canada.
Some of the lamps, detectors and parts used in Shimadzu products contain a small amount of mercury. Mercury and mercury compounds are toxic substances. However, a small amount of mercury must be used in some lamps, detectors and parts in order for the item to work (lamps & detectors) or to improve product performance.

Products containing mercury will have, for example, this type of label affixed to them.

Disposal or recycling of used or defective products must be in accordance with applicable laws and regulations. Consult your local Government Agencies (or your local distributor) for a proper disposal method.

Safe handling procedures for Shimadzu products containing mercury, as well as the steps that should be taken in the case of accidental breakage, are described below.
Informations relatives aux produits contenant du mercure
Cette page donne des informations destinées aux utilisateurs des États-Unis et du Canada.
Certains détecteurs, lampes et pièces utilisés dans les produits Shimadzu contiennent une faible quantité de mercure.
Le mercure et ses composés sont des substances toxiques. Cependant, une faible quantité de mercure est nécessaire dans certains détecteurs, lampes et pièces afin qu'ils puissent fonctionner (lampes et détecteurs) ou pour améliorer les performances du produit.

Les produits contenant du mercure porteront, par exemple, ce type d'étiquette.

La mise au rebut ou le recyclage des produits usés ou défectueux doit être conforme aux lois et règlementations applicables. Consulter les administrations publiques locales (ou votre distributeur local) pour connaître la méthode d'élimination appropriée.

Les procédures de manipulation en toute sécurité des produits Shimadzu contenant du mercure, ainsi que les étapes à suivre en cas de rupture accidentelle, sont décrites ci-dessous.