DR Neutral Solutions
Konica Minolta AeroDR™
Wireless FPD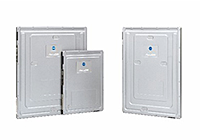 The wireless detectors of the AeroDR series ensure good performance in X-ray study workflow. High DQE with CsI Scintillator.
AeroDR detectors are able to be integrated with the SHIMADZU General Radiography system and the SHIMADZU Mobile system.
AeroDR 1417HQ: Ideal for daily General Radiography exams
AeroDR 1012HQ: Ideal for neonatal imaging
AeroDR 1717HQ: large FOV
AeroDR 1417S : Cost effective DR detector.
            Ideal for Outpatient clinic and Urgent care.
Extreme Environment: AeroDR XE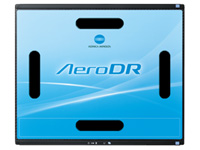 AeroDR XE is a reliable, robust wireless DR detector for extreme environments.
It ensures a good combination with General Radiography systems especially in ER/Trauma and DR Mobile systems.
- AeroDR XE (AeroDR 2 1417HQ) supports IPX6* Waterproof standard.
- Power charging time is only 30 minutes by battery charger2 or dedicated cable.
* The product may fail to maintain its waterproof performance (equivalent to IPX6) if it has been dropped. The waterproof performance of this product does not guarantee that product damage or failure will not occur.
Workstation - CS-7 Software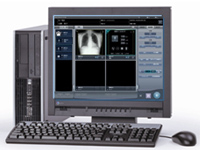 The workstation has a user-friendly interface and useful functions. After exposures, a preview image is displayed quickly.
Wireless DR detectors can be shared between General Radiography rooms, Universal R/F rooms, DR Mobile systems, and retrofit rooms provide a cost effective solution while improving workflow.
CS-7 can have tight linkage with SHIMADZU X-ray systems. Examination protocols are selected on CS-7 and facilitate a better workflow and consistent exposures.