DR Neutral Solutions
Shimadzu SZ
Wireless FPD
The wireless solution ensures the best performance in workflow, sensitivy and image quality. High Sensitivity with CsI Scintillator and Cost Effective GoS Scintillator are available.

Shimadzu SZ 35C/G (14x17") Ideal for Daily General Radiography
Shimadzu SZ 24C (10x12") Ideal for neonatal imaging
Shimadzu SZ 43C/G (17x17") Large FOV
Workstation - Shimadzu SZ software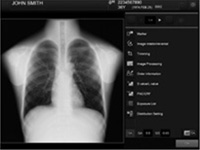 The workstation has a user-friendly interface and useful functions. After exposure, a preview image is displayed quickly.
Wireless FPD can be shared amongst muliple DR Mobile systems providing a cost effective solution while improving workflow.
The X-ray system and the workstation are fully integrated. Examination protocols are selected on the workstation which will automatically control the X-ray generator, facilitating a better workflow and consistent exposures.