General Radiographic System - RADspeed DR
Combination with DR system Evolves Your Workflow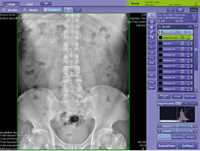 Using a DR system saves more than 60% of your time because registering the patient and cassette handling are no longer a part of the workflow.
You can perform your examination and read the image in a few moments wherever you are.
Also Auto field size selection of collimator and Patient Information Display are available with DR system.
Auto Stitching-"Speed Stitch"
Images are taken while swinging the X-ray tube and moving the FPD.These images are automatically stitched together to obtain wide-range images instantly along the body axis.