> 2021
> Shimadzu Solutions for Patient and Healthcare Worker Safety
NEWS
Shimadzu Solutions for Patient and Healthcare Worker Safety
Improvement in patient and medical staff safety in healthcare organizations is one of the core components of high quality care. Healthcare management needs to employ proactive and systematic methods to prevent the risk of patient and medical staff injuries such as patient falls, ergonomic injuries, infection risk, and so on. Shimadzu Medical Systems USA joined a Focus Group with 18 customers in the U.S. at the AHRA 49th Annual Meeting and Exposition (AHRA 2021) and exchanged information regarding safety concerns in healthcare systems and possible solutions which Shimadzu can contribute.
What is an AHRA Focus Group?

AHRA: The Association for Medical Imaging Management offers exclusive access to AHRA leaders allowing for the opportunity to receive invaluable market intelligence from medical equipment suppliers. The intimacy of the small group enables AHRA leaders and vendors to engage in meaningful discussions and receive fresh perspective directly.
Background
A report from the American Hospital Association (AHA) shows that estimated annual patient falls in U.S. hospitals are between 700,000 and 1,000,000 people. Injuries related to falls can result in an additional 6.3 hospital days with the cost for a serious fall with injury averaging $14,056 per patient.1) According to the questionnaire results from the AHRA2021 Focus Group session Shimadzu Medical Systems USA joined, 83% of customers claimed that patient falls is the highest concern in patient safety in the Radiology Department.



1,000,000 patient falls annually
in U.S. hospitals




Approx. $14,056 cost of fall-related injury




Additional 6.3 hospital days
for each fall-related injury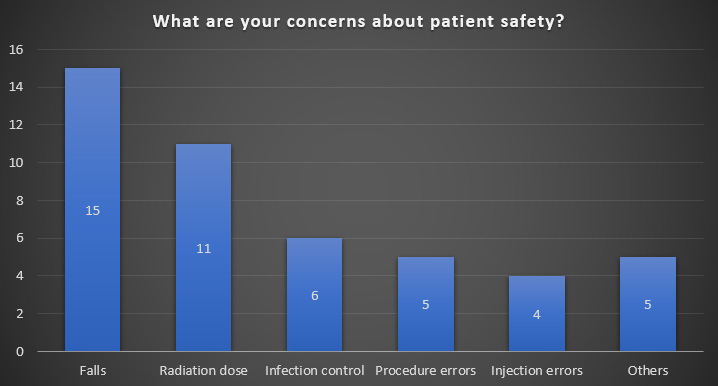 Answers by AHRA2021 Focus Group (18 customers)
(*Multiple answer allowed)
Safety is an important matter not only for patients but also healthcare workers including radiologists, technologists, nurses, etc. A report from the U.S. Department of Labor Occupational Safety and Health Administration (OSHA) shows that a hospital is one of the most hazardous places to work. In 2011, U.S. hospitals recorded 253,700 work-related injuries and illnesses, which computes to a rate of 6.8 work-related injuries and illnesses for every 100 fulltime employees. The most common injuries resulting in days away from work are sprains and strains.2) In the AHRA2021 Focus Group, 89% claimed that they had radiology staff absences due to related injuries in the X-ray room.

In order to supply diagnostic imaging systems for supporting those working at the front lines of healthcare throughout the world, Shimadzu Corporation has remained committed to developing innovative technologies that minimize radiation dose, improve image quality, reduce users' burden, and ensure excellent operability.
Shimadzu solutions for patient falls reduction
72% of the AHRA Focus Group attendees claimed that radiographic system and fluoroscopy system with an elevating table feature helps reduce patient fall risks. Shimadzu's radiographic system RADspeed Pro, R/F systems, SONIALVISION G4 and FLUOROspeed X1 have an elevating table as a standard feature(*). It is easy for users to transfer patients on/off the table and minimize patient fall risks.
Elevation table feature of RADspeed Pro, SONIALVISION G4 and FLUOROspeed X1
SONIALVISION G4 minimum table height is 18.5inch (47cm)
*It may vary depending on countries. Please ask sales representatives in your area.
The Shimadzu R/F systems SONIALVISION G4 and FLUOROspeed X1 have been thoughtfully designed to consider patient safety. Both R/F systems provide enough aperture space for patients in a barium swallow study that helps minimizing patient transfer from wheelchair to a dedicated study chair.
SONIALVISION G4 and FLUOROspeed X1 wide space for patients
*SONIALVISION G4 180cm SID option is available. Please contact your sales representative.
Shimadzu solution for user workload reduction and patient care
Operating the medical X-ray systems involves moving assemblies such as X-ray tube mount along ceiling rails. But due to the operator's risk of shoulder or lower back pain, there is a need to reduce the burden on operators. Reducing operating loads and enabling a smoother workflow would also shorten the time that patients must maintain a particular body position during examinations. Shimadzu's GLIDE Technologies provide a smooth experience for handling medical systems by reflecting the intent of the operator in a natural way.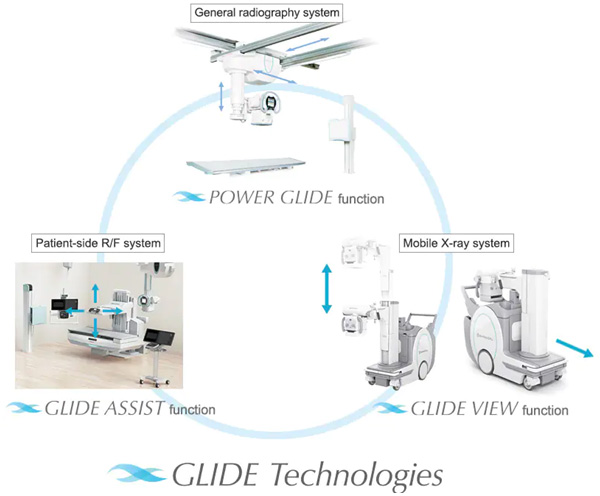 Visit here to learn more about GLIDE Technologies: https://www.shimadzu.com/research_and_development/technology_branding/glide_technologies/index.html
Shimadzu solution for radiation dose reduction
When using fluoroscopy equipment, special attention must be paid to the radiation dose to patients and healthcare workers. SCORE PRO Advance, a Next Generation Imaging Technology of Shimadzu IXR and R/F systems, offers the balanced optimization of fluoroscopic image quality and exposure level in various fluoroscopic examinations such as cardiac interventions. As a result of image quality improvements, SCORE PRO Advance can provide equivalent image quality at lower exposure levels. Also, the significant reduction of image lag can minimize the lowering of visibility even at low pulse rates. That means exposure rates can be reduced even further by decreasing the pulse rate setting for each examination or procedure.
The higher image quality offered by SCORE PRO Advance represents another step forward in the advancement of minimally invasive (low dose) procedures. By using an optimal combination of the low-dose mode and low pulse rate, optimized for each examination, Trinias systems can be expected to reduce exposure levels by about 50% per examination while also providing high image quality.

・Visit here to learn more about SCORE PRO Advance: https://www.shimadzu.com/med/products/app/scorepro.html
・Visit here to learn more about Minimally Invasive Experience: https://www.shimadzu.com/med/minimallyinvasive/
Providing better environment for patient and healthcare worker
Shimadzu offers a wide variety of solutions that contribute to patient and healthcare worker safety. With the adjustable handle of the MobileDaRt Evolution MX8, users can choose the Mobile X-ray system's handle height to reduce users' ergonomic strains.
MobileDaRt Evolution MX8 adjustable handle
Standard height 40.2inches (102cm). It can be adjusted to 37.4inches (95cm) by option
Shimadzu's X-ray collimator R-300 has a soft rubber cushion to reduce the risk of patient head collision.

Soft rubber cushion on X-ray collimator
Shimadzu Radiographic system RADspeed Pro has intelligent automatic features to help operators focus on patient care during examinations. The Auto-Positioning feature is synchronized with the anatomical program and moves the ceiling-mounted X-ray tube support to any desired position at the press of a single button. The sophisticated system synchronizes auto Bucky tracking between the X-ray tube and bucky table, also interlocking the up/down motion of X-ray tube and bucky stand. These features enable much easier and faster system operation.
Technology innovation is at our core at Shimadzu, and we use it to solve problems in healthcare. For over 100 years of history in X-ray, we have pursued our passion for technology to develop solutions to lower dose, secure patient safety, make workflow simpler and improve the patient and healthcare worker experience with meaningful innovation. At Shimadzu, we will continue to challenge ourselves to apply technology for a more meaningful experience for healthcare system.
References
| | |
| --- | --- |
| 1)  | Preventing Patient Falls -A Systematic Approach from the Joint Commission Center for Transforming Healthcare Project -, American Hospital Association, October 2016 |
| 2)  | Fact About Hospital Worker Safety, U.S. Department of Labor, Occupational Safety and Health Administration (OSHA), September 2013 |
This page may contain references to products that are not available in your country. Please contact to check the availability of these products in your country.