Mobile X-ray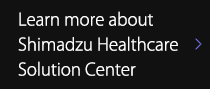 Digital Radiographic Mobile X-ray System- MobileDaRt Evolution MX8 Version
Advanced DR Mobile system with new values
(To check the detailed features of each type of MobileDaRt Evolution MX8 Version, please click the tab buttons above.)
Evolutionary Modernity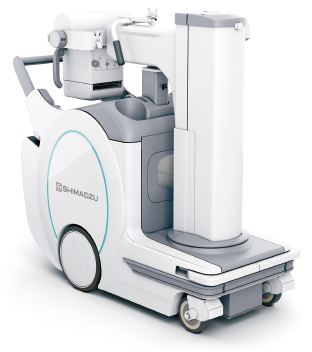 The award winning MobileDaRt Evolution is further refined into the MX8 Version featuring the collapsible column to broaden the mobile's solutions.
With flexible DR/FPD combination, collapsible column, and power-assist functionality, MobileDaRt Evolution provides ideal workflow and clinical functionality for ward rounds, ICU, NICU, emergency rooms(ER), or operating rooms(OR). Followings are part of the great features.
Responsive and maneuverable mobility
Quick image verification offering immediacy
Large viewing monitor for enhanced functionality.
For more details, please click the links below for each type of MobileDaRt Evolution MX8 Version.
Critical Applications, Respected Mobile Imaging Technology Around the World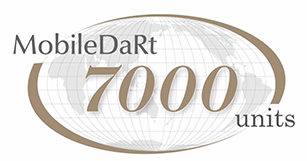 The number of order bookings of MobileDaRt series has exceeded 7,000 units worldwide as of June 2022. As a pioneer of the mobile DR solution, we will continue our efforts to deliver you further advancements in mobile imaging performance and workflow.
DR Neutral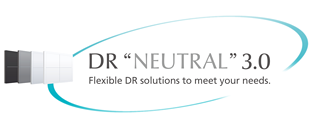 MobileDaRt Evolution MX8 Version allows flexible DR/FPD combinations to create your optimized system and workflow.
*The available DR/FPD solution may vary depending on the country or region.
MobileDaRt Evolution MX8 User Voice
MobileDaRt Evolution Customer Testimonial – Medical Center Hospital, TX
Great Usability and Functionality of the Main-unit
Great Forward Visibility offering Peace of mind
The collapsible column has been developed to realize a virtually unobstructed wide field of view during travel, offering peace of mind in daily hospital rounds.
Intuitive Maneuverability
Optimized power assist system delivers smooth light touch driving. The low-profile and curved shape, provides for an open space behind the mobile cart, allowing for a more natural driving position.
Positioning, Exposure from any direction
Pressing the "All Free" buttons releases the electromagnetic locks for the telescopic arm and column at the same time, thus enabling simple one-step positioning. Multiple "All-Free" buttons are located around the system, so the technologist can access from any direction. Furthermore, an extra exposure hand switch can be added to the front of the system, and a wireless hand switch is optionally available upon local regulatory compliance.
Designed for optimized performance
On-site Quick Image Verification on a large LCD monitor
The embedded 19-inch touch panel display is excellent for quickly viewing images, and the flat screen design makes it easy to clean-up. Displaying images just two seconds after an exposure is especially useful in emergency rooms(ER).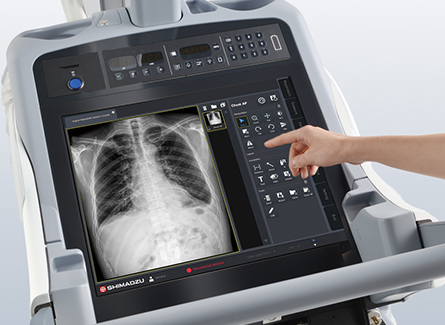 Quick Boot Up
System startup takes only 1 min.* and is immediately ready for use in emergency conditions.
* k type and s type take 2 min.


This page may contain references to products that are not available in your country. Please contact us to check the availability of these products in your country.